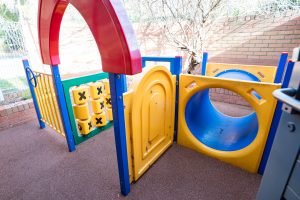 Federation Clinic was constructed in 1988, with detailed thought given to the design and function of the building, ensuring it has remained a pleasant and practical environment for patients, visitors and staff.
The building was originally designed around the principles of infection control, including high ceilings, an open office plan, split waiting areas and refrigerated air-conditioning, all features which assist in minimising the spread of airborne micro-organisms. The building has distinctly defined zones, including a secure children's play area.
Consulting rooms are naturally lit and offer a wide range of modern clinical equipment and child-safe toys. There is a dedicated and well-equipped clinical treatment room with an operating table and lighting suitable for minor surgical procedures. This is accompanied by a dedicated sterilising room in which all non-disposable equipment is cleaned and sterilised. All consulting rooms, procedural rooms and toilets have electronic automated hand-washing taps installed.
In an emergency please call '000'.
Every effort is made to keep appointments running to time, however, due to the unpredictable nature of our work this is not always possible. Patients are encouraged to contact us prior to an appointment to check that the schedule is running to time.
Please give thought to the amount of time your appointment may require. If there are multiple or complex issues that need discussion, please let reception know when booking your appointment so that sufficient time can be allocated with the doctor.